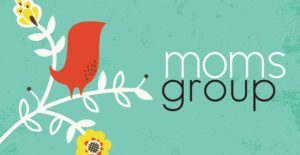 Moms of children any ages meet the 2nd Thursday of each month (Sept. – May) at 9 am – 11:30.
We welcome all mothers who are on this amazing (and sometimes overwhelming) journey of parenthood. This is a great opportunity to meet other local women and find encouragement, advice, and adult conversation!
Monthly Meetings Include:
Practical Help
Each meeting features a time of learning with practical information on a wide variety of topics that are important to mothers.
Childcare
Our MOPPETS program is designed to care for children ages 0 – kindergarten.
Children 3 and under will enjoy playtime and a snack in the nursery.

Potty trained children ages 3-6 participate in playtime, Bible stories, activities, a snack and craft time.
Connect with Others
This group of moms is a community that welcomes ALL mothers. At each meeting, there is time to talk honestly about our struggles and triumphs. It is an accepting atmosphere where you will find that you are not alone on this journey.
FOOD!
We provide a lovely spread of delicious food, hot coffee and juice. Because it is hard enough to get your kids fed, dressed and out the door in the morning without having to worry about breakfast for yourself!