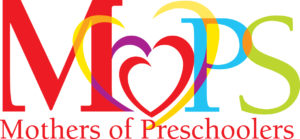 MOPS – stands for

M

others

o

f

P

reschoolers
It is a non-denominational Christian organization designed to meet the specific needs of mothers with young children (ages prenatal – kindergarten).
MOPS meets the 2nd Thursday of each month (Sept. – May) at 9 am – 11:30.

We welcome all mothers who are on this amazing (and sometimes overwhelming) journey of parenthood. This is a great opportunity to meet other local women and find encouragement, advice, and adult conversation!
Monthly MOPS Meetings Include:
Practical Help
Each meeting features a guest speaker or MOPS video with practical information on a wide variety of topics that are important to mothers.
Childcare
Our MOPPETS program is designed to care for children ages 0 – kindergarten.
Children 3 and under will enjoy playtime and a snack in the nursery.

Potty trained children ages 3-6 participate in playtime, Bible stories, activities, a snack and craft time.
Mentoring
MOPS Mentors attend our meetings to share from their own experience as a mom. They provide support and encouragement with a willing ear, wisdom, and a gracious heart.
Connect with Others
MOPS is a community that welcomes ALL mothers. At each meeting, there is time to talk honestly about our struggles and triumphs. It is an accepting atmosphere where you will find that you are not alone on this journey.
FOOD!
We provide a lovely spread of delicious food, hot coffee and juice. Because it is hard enough to get your kids fed, dressed and out the door in the morning without having to worry about breakfast for yourself!
Craft Time
We plan a creative activity for every meeting – for the MOMS! We provide the materials and time during the meeting so that you can actually finish a project. Even if you aren't a crafty person, these are easy enough for the beginner – while looking like they were made by a pro!