Laugh Your Way to a Better Marriage Video Event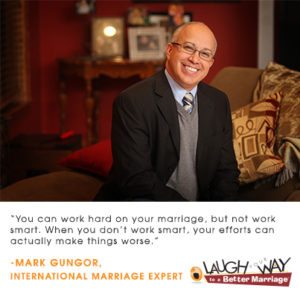 Join Mark Gungor for his two- day
Laugh Your Way to a Better Marriage Video Event!
Friday, February 22, 2019
7:00PM – 10:00PM
AND
Saturday, February 23, 2019
9:00AM – 12:00PM
– Bring positive hope to your marriage
– Help couples understand each other's needs
– Rekindle romance in your marriage
– Appeals widely to husbands, even those who may typically resist marriage ministry!
Mark Gungor is one of the most sought-after international speakers on marriage and family.

Each year thousands of couples attend his Laugh Your Way to a Better Marriage® seminars. His take on marriage issues is refreshingly free of both churchy and psychological lingo. Mark is Sr. Pastor of Celebration Church, a multi-site church with five campuses across Wisconsin, and the CEO of Laugh Your Way America. He speaks for churches, civic events, and business meetings and is a speaker for the U.S. Army. Mark has been featured on national broadcasts such as
Focus on the Family, Life Today and ABC News. His "Better Marriage Minute" is heard on 250 radio stations nationwide, and his radio/TV program, The Mark Gungor Show
, is streamed worldwide on the Internet, and seen weekly on TBN-Africa and Sky Angel.
.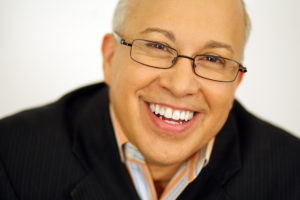 Cost
For this registration fee you are able
to attend this two day video seminar,
and each person will also receive
a Flag Page Code

(a $25 value each!)
Register Online:
Or call

Tallmadge Lutheran Church
FREQUENTLY ASKED QUESTIONS
Do I need to attend both days?
No, but you'll want to! Both days are included in your admission price, and different topics are covered on each day.
I registered online; will I be receiving physical tickets?
All you need to do after you have registered for the event online is print off your email confirmation and bring it with you to the event. That will get you in the doors. You should receive physical tickets once you check in at the event.
Friday, February 22, 2019
7:00PM – 10:00PM
– #1 Key to Incredible Sex
Saturday, February 23, 2019
9:00AM – 12:00PM
– Why Does He/She Do That?
What's In Each Session?
Session 1
"A Tale of Two Brains"
Session one begins with a whole lot of laughter as Mark explores the differences between men and women. In this session, Mark shows couples how their problems may result from how men and women THINK about life in a different way. He explains how many of the struggles couples face in marriage are the result of a HEAD problem, not a HEART problem.
Session 2
"Why Does He/She Do That?"
Session #2 finds Mark teaching couples how to discover the true reasons why their spouse does what he or she does. In addition to being a great stress reducer, attendees are introduced to an amazing tool called the Flag Page. By focusing on motivation and each person's best qualities, the Flag Page teaches couple a new way to discover what makes their spouse tick.
Session 3
"The #1 Key to Incredible Sex"
When participants are asked for feedback they usually rate this session as their favorite… and who wouldn't? One of the biggest problems in marriage today has to do with sex. As a society we are bombarded with sexual messages everyday and are supposedly the most highly sexually educated generation in history. So why are married couples having less sex than ever before? In his riveting and compelling style, Mark shows how the sexual messages of our culture are fundamentally flawed at best and destructive at worst. He covers five steps couples can take to achieve a healthy, fantastic sex life ending with The #1 Key to Incredible Sex.
Session 4
"How to Stay Married and NOT Kill Anybody"
In this final session, Mark covers the subject of forgiveness and shows how to avoid building resentment in marriage…not to mention sharing with couples the key to staying married for a lifetime.